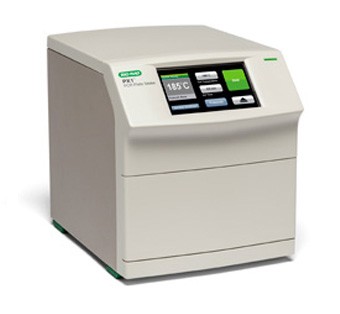 Bio-Rad has leveraged its 20 years of experience in PCR to develop an innovative, semi-automated heat sealing system for PCR microplates. The new PX1™ PCR plate sealer helps deliver a perfect seal by removing human variability from plate sealing. This newly introduced system helps eliminate a common problem in the thermal cycling workflow — sample evaporation. Evaporation during PCR can lead to the loss of precious samples and valuable research time. Additionally, sample evaporation may result in poor experimental uniformity by permitting larger standard deviations among replicate samples, complicating data interpretation. The PX1 PCR plate sealer delivers uniform temperature and pressure across a seal and plate, ensuring that every well is perfectly sealed and protected against sample evaporation.
The intuitive touch screen interface enables researchers to seal PCR plates with the touch a button. Users can quickly view the instrument status from the Home screen (Figure 1). The customizable protocol function saves up to 12 unique sealing protocols, eliminating the need to remember and reprogram optimized sealing conditions (Figure 2). The PX1 is ready to seal in under three minutes, preventing unnecessary delays in experimental workflows.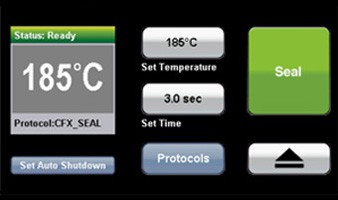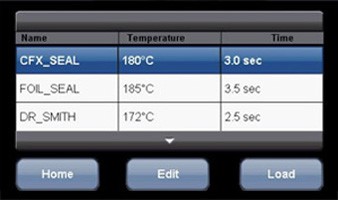 The heat sealing consumables family includes four heat sealing films and foils, each validated for unique thermal cycling workflows. These films seal microplates for standard, real-time PCR (qPCR) and Droplet Digital™ PCR (Figure 3).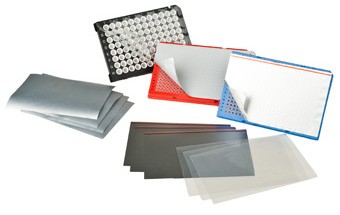 Optically clear heat seal — best suited for thermal cycling and real-time PCR applications when a clear, peelable seal is desired. The ultra clear seal demonstrates low background auto-fluorescence
Permanent clear heat seal — provides the strongest heat sealing option and is ideal for thermal cycling experiments where seals will not be removed, including water bath cycling
Pierceable foil heat seal — ideal for workflows requiring a pierceable seal. Aluminum seal is validated for use with QX100™ Droplet Digital PCR system
Peelable foil heat seal — best for sample storage. These laminate foil seals can be easily peeled off a plate directly from a –80°C freezer. They can also be used for thermal cycling
Suggested PCR Plate Sealing Guidelines
Bio-Rad has carried out extensive heat sealing optimization on a wide variety of PCR plates, considering the impact that various microplate material and dimensions may have on the ideal sealing conditions. Suggested heat sealing paramaters for Bio-Rad Hard-Shell® 96- and 384-well plates and unskirted multiplates are provided to customers. While individual user validation is still encouraged, the suggested sealing guidelines help minimize the optimization steps. The new PX1 PCR plate sealer, heat sealing films and foils, and PCR plates will help researchers obtain highly uniform and reliable PCR data.
Ordering Information
| | |
| --- | --- |
| Catalog # | Description |
| 1814000 | PX1 PCR Plate Sealer System, includes heat sealing instrument, 96-well/384-well plate support block, sealing frame and power cord |
| 1814030 | Optically Clear Heat Seal, pkg of 100, optically clear seals for PCR and real-time PCR applications. For use with the PX1 PCR plate sealer |
| 1814035 | Permanent Clear Heat Seal, pkg of 100, non-peelable, non-pierceable clear seals for PCR, water bath cycling and sample disposal. For use with the PX1 PCR plate sealer |
| 1814040 | Pierceable Foil Heat Seal, pkg of 100, foil seals for PCR and QX100™ ddPCR™ applications. For use with the PX1 PCR plate sealer |
| 1814045 | Peelable Foil Heat Seal, pkg of 100, laminate/foil peelable seals for PCR and sample storage. For use with the PX1 PCR plate sealer |