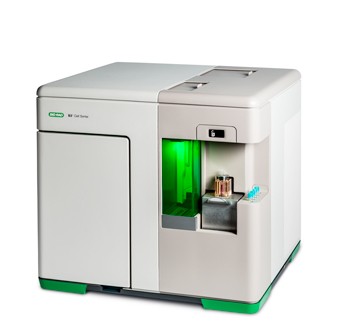 Bio-Rad Laboratories and Propel Labs, a biotechnology instrumentation company whose principals helped to develop the MoFlo cell sorter and the CyAn ADP Analyzer, have partnered to bring researchers the new evolution in cell sorting, the S3 cell sorter. The S3 cell sorter is an automated benchtop cell sorter that contains one to two lasers and up to four fluorescence detectors, along with forward and side scatter detectors. It uses state-of-the-art ProDrop™ technology for automation of drop delay calculation and droplet break off monitoring, thereby simplifying one of the most complex aspects of cell sorting. Without compromising performance and sensitivity, this affordable cell sorter provides exceptional sort purity and yield results. This system is ideal for sorting cells expressing fluorescent proteins like GFP or cells labeled with fluorescent markers.
The S3 cell sorter offers researchers:
Simplified instrument setup — automated drop delay calculation and droplet break-off monitoring enable precise 1–4 color sorting with minimal training
Reduced carryover — dual-position loading stage ensures the sample line is clean between sort runs
Compact design — only 2.3 x 2.1 x 2.1 ft in dimension, it includes onboard fluidics and temperature control system
Intuitive interface — user-friendly ProSort™ software for effortless instrument control and sort logic definition
The S3 cell sorter makes cell sorting easy and convenient for the most common experiments. In addition, it provides expertise and experience in cell sorting from Propel Labs along with excellent technical and service support from Bio-Rad.