Bio-Rad's new iScript™ gDNA Clear cDNA Synthesis Kit provides a streamlined approach for generating genomic DNA (gDNA)-free cDNA for gene expression analysis. It is a reverse transcription kit that provides the most convenient solution for both eliminating gDNA and monitoring the efficacy of gDNA removal.
What makes the iScript gDNA Clear Kit superior to other gDNA digestion methods?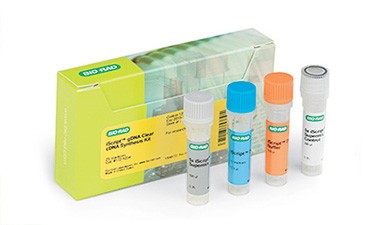 Even the best RNA purification methods may result in some level of gDNA contamination. This can lead to inaccurate gene expression data, especially when dealing with genes that are expressed at low levels. The easiest way to avoid gDNA amplification is to design primers that span exon-exon junctions or large introns. When this is not possible a gDNA clearance step may be required prior to cDNA synthesis.
Standard methods for generating gDNA-free cDNA can result in sample loss or require long incubation times. And even when provided as a complete solution, such methods still require pipetting a multitude of components for the reverse transcription steps. The iScript gDNA Clear cDNA Synthesis Kit provides faster and more efficient gDNA clearance than these methods: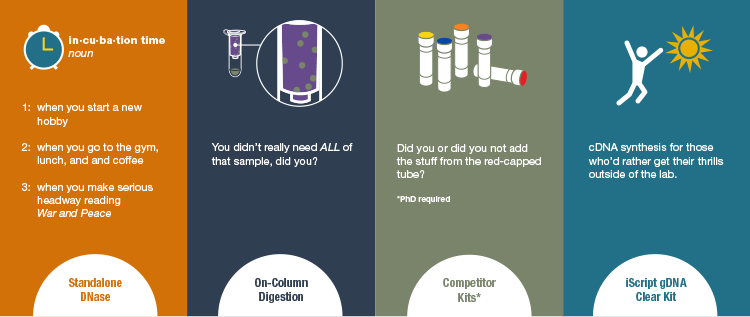 How does the iScript gDNA Clear cDNA Synthesis Kit work?
gDNA-free cDNA can be generated in just 36 minutes with the iScript gDNA Clear Kit. Simply add DNase master mix to your RNA samples, incubate for 10 minutes, and add the ready-to-use reverse transcription supermix to your samples (Figure 1). The included all-in-one, no reverse transcription control supermix lets you determine the efficiency of gDNA removal; RNaseH+ activity ensures 1:1 RNA to cDNA conversion; and an optimum blend of oligo(dT) and random primers prevents 5′ and 3′ bias.

Performance Evaluation
1. Efficient gDNA clearance.
A. iScript gDNA Clear cDNA Synthesis Kit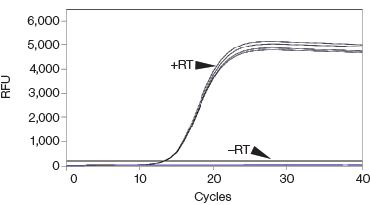 B. QuantiTect Reverse Transcription Kit (QIAGEN)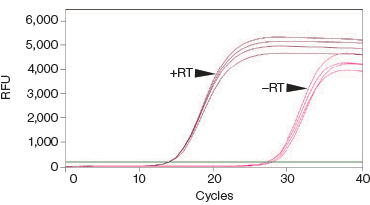 C. Maxima First Strand cDNA Synthesis Kit for RT-qPCR with dsDNase (Thermo Fisher Scientific)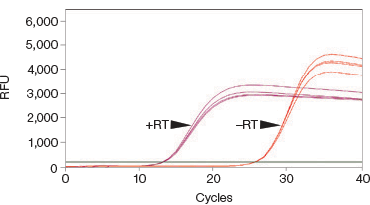 D. PrimeScript RT Reagent Kit with gDNA Eraser (Takara)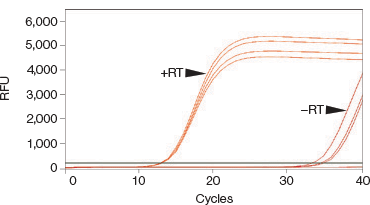 2. No impact on downstream real-time PCR.
The integrated gDNA clearance step does not affect downstream gene expression analysis.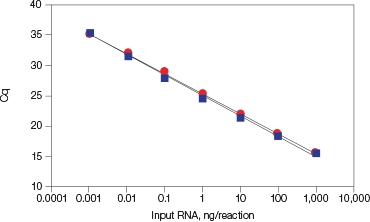 Sample
Efficiency
R2
Slope
Treated (

●

)
100.3%
0.999
-3.314
Untreated (

■

)
99.0%
0.997
-3.345
3. Highly sensitive and reproducible.
Transcripts can be reproducibly quantified over seven orders of magnitude (1 pg–1 µg).
A. Amplification profile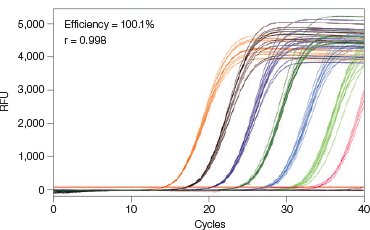 B. Standard curve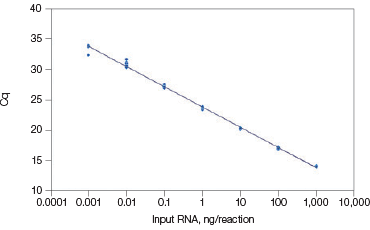 Learn more about our iScript gDNA Clear cDNA Synthesis Kit.
Ordering Information
| | |
| --- | --- |
| Catalog # | Description |
| 1725034 | iScript gDNA Clear cDNA Synthesis Kit, 25 x 20 µl reactions |
| 1725035 | iScript gDNA Clear cDNA Synthesis Kit, 100 x 20 µl reactions |