Hard-Shell 384-well 480 PCR plates are designed to withstand the stresses of thermal cycling and robotic handling. The two-component design provides superior stability and flatness, allowing precise positioning for automation. Features and benefits include:
Extremely uniform wells that reduce well-to-well variability in real-time PCR
Warp-free skirt and deck for improved robotic handling
Bar-coded at row A side; available in clear or white well
Black alphanumeric labeling for easy well identification
Footprint and well spacing match ANSI/SBS standard dimensions
Reaction volumes of 1–30 μl (50 μl maximum)
Compatible Instruments
Roche LightCycler 480; Bio-Rad C1000 Touch™, C1000™, S1000™, DNA Engine® family, CFX384 Touch™, CFX384™; Applied Biosystems cyclers, real-time systems; Eppendorf Mastercycler series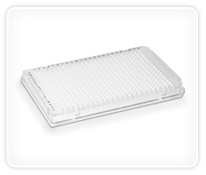 ---
Microseal® 'C' Optical Seals
Microseal 'C' optical seals are optically clear adhesive films designed for optical assays such as real-time PCR. They can be used for microplates with raised well rims.
Features include:
A tight seal for PCR and qPCR
Pressure- and heat-sensitive adhesive — sticks to the plate, not your gloves
Includes sealing tool for applying even pressure
Free from DNase, RNase, and human DNA contaminants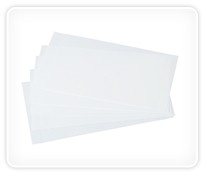 ---
Ordering Information
Catalog #
Description
Hard-Shell 384-Well 480 PCR Plates, With Bar Code on 1 Side (Row A)
HSR-4805
White well, clear shell (50 Plates)
HSR-4805K
White well, clear shell (100 Plates + 100 Microseal 'C' Seals)
HSR-4801
Clear well, clear shell (50 Plates)
HSR-4801K
Clear well, clear shell (100 Plates + 100 Microseal 'C' Seals)
Microseal 'C' Optical Seals
MSC-1001
Microseal 'C' Optical Seals, 100 seals