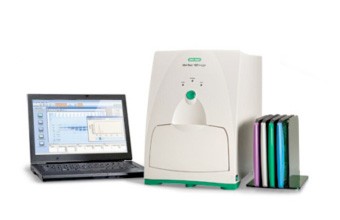 Bio-Rad's innovative Gel Doc EZ imaging system features something that no other imaging system has: brains. The imager can be used with any of four modular application trays — UV (for ethidium bromide staining of DNA gels and fluorescence imaging), white (for Coomassie, copper, silver, and zinc stains), blue (for nucleic acid applications that use SYBR® stains), and stain-free (for stain-free imaging).
Smart Tray Technology™ is the driver behind automatic tray recognition by the instrument and application menu customization by the software. Image Lab software's protocol-driven interface guides you through setting up your image acquisition, image analysis, and report parameters, which can then be saved for future recall. Default protocols for each of the four trays can be programmed and assigned to the green button for simple push-button imaging.
Through the pairing of Smart Tray Technology and Image Lab software, the imaging and analysis workflow is condensed to three simple steps that generate publication-quality images and results in just ten seconds.
1. Choose the right tray for your application needs.
2. Press the green button.
3. Get your images and results automatically.
Experience the speed for yourself.
Bio-Rad Laboratories, Inc. is licensed by Life Technologies Corporation to sell reagents containing SYBR Green I for use in real-time PCR, for research purposes only.