Despite improved global recycling metrics, more waste than ever before is generated globally, making source reduction, or waste prevention, critical. Bio-Rad appreciates that its customers — often life science research institutions and schools — were among the first in the nation to put effective source reduction programs in place. We recognize that reducing waste is sovereign for the health of our planet. Streamlining packaging and saving paper — thereby conserving natural resources — is a cost-effective, sound environmental practice. Highlighted here, in honor of the 42nd anniversary of Earth Day on April 22, is a collection of green, source reduction projects from the Bio-Rad campus in Hercules, California.

BioRadiations Sustainability Series
Almost 89% of the earth's forest cover from the 19th century has been destroyed, whereas the remaining 11% is under threat. The U.S. is the largest market in the world for paper products, producing 90 million tons of paper annually, and consuming 100 million tons1. Bio-Rad acknowledges that source reduction is one effective measure to help save one of the earth's most threatened, vital resources: forests.
This is the final installment in the three-part sustainability series. To make a personal commitment to source reduction for Earth Day 2012, please visit http://www.epa.gov/waste/ and learn what you can do.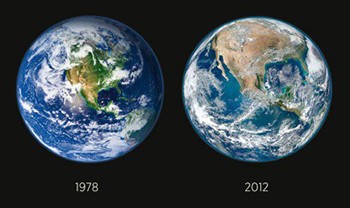 Reduce. Reuse. Refresh.
The U.S. Environmental Protection Agency (EPA) defines source reduction as activities designed to reduce the volume of generated waste, including the design and manufacture of products with a minimum volume of material2. When the Bio-Rad Educational (Bio-Ed) team turned a green eye toward its Biotechnology Explorer educational kits, an excess of Styrofoam, paper, and plastic consumables was an obvious place to start.
"Nearly 70% of our customers are repeat customers," says Ingrid Miller, Biotechnology Explorer product manager for Bio-Rad. "Classrooms, where space is at a premium, were swarming with consumables from previous kits. We decided to work with manufacturing to reduce waste and encourage our customers to reduce, reuse, and refresh."
The Life Science Education Manufacturing Reduction Project was a two-year cross-functional undertaking that began January 2010. Targeting kits with the highest volume of sales, the team reduced the number of recyclable No.1 plastic trays (for gel handling), Styrofoam floats (for water bath microtube flotation), and the overall size of the Bio-Rad product boxes. The newly-optimized "green" version of the highly popular pGLO bacterial transformation kit was launched in early June 2010.
Life Science Education Manufacturing Reduction Project 2010–2011: Environmental Savings

The team redesigned a total of 12–13 Biotechnology Explorer kits. (For environmental savings see above infographic.) The team also streamlined many of the product boxes for the Cloning and Sequencing Explorer Series, going green one step further by reducing shipping materials in addition to kit materials. Some of the eight series modules contain temperature-sensitive reagents that require ice and Styrofoam for transport. Although Styrofoam is not recyclable, the redesigned Styrofoam container is about 45% smaller (see photo below).
Over the past five years, other Bio-Rad divisions have also optimized product packaging. Among product lines with newly streamlined packaging are the Bio-Plex Pro immunoassay kits (see comparison photo below). The Lab Separations Division designed environmentally-friendly transfer packs that accompany the new Trans-Blot Turbo transfer system to have recyclable packaging and proprietary methanol-free buffer.
Regardless of the division, all of Bio-Rad's redesigned product boxes contain at least 30% post-consumer waste and are marked with a "Be Green" prompt, reminding customers to recycle. (By recycling, customers perpetuate a closed loop system where waste is regenerated into new products.) Most bags housing smaller components within the green boxes are compostable, directly eliminating more material from landfill. (Nearly 500,000 compostable bags are used per year.)
Chemical Manufacturing Plant Efforts
With respect to source reduction, the chemical manufacturing plant in Richmond, California was of special interest as it typically packages large-volume items. Two years ago, the Aminex HPLC prepacked chromatography column boxes were reduced by 50%. In 2010–2011 alone, 4,000 Aminex boxes were purchased, equating to considerable annual savings for Bio-Rad and the environment.
The Richmond team also noticed the high volume of printed material accompanying certain products. The liquid acrylamide gel-casting reagent line, consisting of seven different products, was formerly shipped with instruction manuals (~10 pages each), even though the manuals were available as PDF downloads through the Bio-Rad web site (www.bio-rad.com).
"We were asking ourselves, why print it, receive it, count it, and spend the labor packaging the literature if the customer doesn't want it?" says Chester Lee, production manager at the chemical manufacturing plant. "Many customers are repeat customers, so the question became how many pieces of literature do they really need?"
Lee estimates the total volume of printed literature eliminated is 15,000 pieces annually, directly translating into paper spared, toner saved, and carbon emissions eliminated. Other Bio-Rad divisions have also eliminated paper manuals. For instance, the Biotechnology Explorer division removed the paper manual from the revised pGLO bacterial transformation kit. The Bio-Plex Pro human cancer biomarker panel 1 kit, launched in September 2011, was the first kit in the Bio-Plex line to come with a one-page quick guide instead of the standard two, 50-page instruction manuals. All manuals are alternatively available for download.

Print Source Reduction
Despite increased trends in electronic publishing, print is unlikely to fully disappear. Through efforts of its internal printing center, Bio-Rad continues to enact large-scale paper-saving efforts. Eight years ago the print center started to reduce high-end equipment and multiple paper buyers in a move towards a digital, print-on-demand environment. Print-on-demand controls cost and reduces waste by centralizing production in-house.
In the past, if a product manager wanted 1,500 brochures for a product launch, a third-party offset printer typically required a minimum run of 5,000-10,000 pieces, resulting in unnecessary waste. An outside vendor also drives up a project's carbon footprint, as the order must be shipped back to Bio-Rad's literature center for distribution and storage.
"We want to avoid having more print product than orders," says Steve Evans, manager of the print center. "With print-on-demand, you print only what you need, and the printing is done on-site."
The print center uses 30% recycled stock for most orders. Even for color printing, which traditionally required virgin fiber paper, the group has switched to 10% recycled, Forest Stewardship Council (FSC)-certified paper. (The intent of the FSC system is to shift the market away from habitat destruction, water pollution, displacement of indigenous peoples, and violence against people and wildlife that often accompanies logging for paper3.)
"Recycled paper was once more expensive than virgin stock," notes Evans. "In the past two years, the tide has turned the other way as the green technologies have flooded the market. Now it's cheaper to buy green in most cases."
When the literature center relocated next to the print center in June 2009, more than one million pieces of out-of-date literature were recycled in part due to the practice of using third-party printers. "With the move it's been easier to visualize and control the printed stock we have on hand," says Debbie Schantz, marketing communications manager for literature at Bio-Rad. "We work closely with product managers to provide visibility and control usage. There were some instances where some divisions had been ordering enough literature to last 10+ years."
More importantly, less paper has been used since a large website re-launch program for Bio-Rad.com in 2009. Almost all documentation that the customers require is now available 24 hours a day, seven days a week.
Improving a company's environmental profile, in part with source reduction practices, makes good business sense. The source reduction efforts on the Bio-Rad campus are part of an ongoing effort to build green practices into our corporate culture and would not have been possible without the support of Bio-Rad employees who share, with their customers, a worldwide concern for environmental issues. Bio-Rad's transition to an improved environmental ethic succeeds only when employees explore cost-effectiveness of established practices, cooperate across business and geographic divides, and do not hesitate to acknowledge shortcomings as well as success stories.
We hope you have enjoyed this series on sustainability practices in the life science industry, particularly at Bio-Rad. If you have any comments or would like to share conservation efforts practiced by you or your institution, please create a user account and post them.
Questions may be sent to:
bioradiations@bio-rad.com
1 http://www.fscus.org/paper/
2http://www.epa.gov/region9/waste/solid/reduce.html#reduce2
3 http://www.fscus.org/paper/