Increasingly ideas from the birth of the American environmental movement of the mid- to late 1960s are grabbing hold in 21st century practice. Universities and life science research institutions were among the first organizations to establish some of the most progressive sustainable programs in the country, driving an evolution of change. In partnership with this community, Bio-Rad recognizes that reducing shipping associated with consumer products is a direct opportunity to slow greenhouse gas emissions contributing to climate change. Here we highlight Bio-Rad supply center practices and recognize the University of Colorado, home of one of the oldest university recycling programs in the country.

BioRadiations Sustainability Series
At Bio-Rad we strive to reduce our carbon footprint through resource and energy conservation with the aim of producing less waste overall. Prior to the first Earth Day, in 1970, America recycled well under 10% of its waste. Today the recovery rate is approximately 30%. We collectively have a long way to go. The sustainability series represents Bio-Rad's broader commitment to becoming a better environmental steward. This is the first installment of a three-part series highlighting green practices within our company. The final report will appear in the April edition of BioRadiations, in time to honor the 42nd anniversary of Earth Day.
CU Boulder's recycling program1, established in 1976, is a noted state leader in resource conservation. To minimize energy, water, and material goods in labs, the CU Green Labs program uses a collaborative approach, involving lab members and departments, the Facilities Management Sustainability Office, Environmental Health & Safety (EH&S), and the Environmental Center. The impact savings from the program are estimated to equal ~270,000 KWh/yr in electricity, ~3.7 million gal/yr in water, and 130 yd3 of No. 6 block foam recycled (i.e., Styrofoam).
In line with the University of Colorado's sustainablility philosophy, Bio-Rad's supply centers aid in reducing carbon emissions by functioning as centralized delivery and supply stations. On the University of Colorado Denver Anschutz Medical Campus (UC Denver AMC) there are approximately 15 supply centers from various vendors managed in individual labs. With an automated supply center, when a lab user walks up to a kiosk, logs in, takes the products, and scans them, an invoice is generated.
On the UC Denver AMC campus, the Bio-Rad supply center in the Caldwell lab dispenses 60–100 gels weekly, of which the 20% Ready Gel® precast gels and Mini-PROTEAN® TGX™ gels are the most popular. Roughly 60–80 products are typically stocked in Bio-Rad supply centers. Items are replenished in weekly batch shipments; for instance, gels are shipped on blue ice packs in a foam pack and then stored in the 4°C section of the kiosk upon receipt.
See a Bio-Rad automated supply center in action
Without supply centers, labs tend to order sporadically in smaller quantities, resulting in potential disruptions in experimental procedures and a larger carbon footprint due to increased deliveries and packaging materials. "We typically receive one cold shipment per week, in comparison to three or four labs that would receive multiple shipments to order ten gels," says Dr Kristin Schaller, a researcher in the Caldwell lab, Department of Neuroscience on the UC Denver AMC campus.
Products and Packaging Contribute 44% of U.S. Greenhouse Gas Emissions2
The CU Green Labs program recycles from labs boxes and foam containers used in shipping many Bio-Rad cold supplies. On both campuses students and technicians also collect the foam containers to reuse in their labs for setting up experiments on ice. "We're always interested in reducing, if not eliminating, as much inbound packaging as possible. Supply centers are a good way to do this," says Jeff Darling, senior purchasing agent of facilities management, and sustainability officer of the procurement service center. Darling is also a member of the CU Sustainability Action Team. For more information visit: http://www.colorado.edu/cusustainability.
Beyond packaging, lab refrigerators and freezers are massive consumers of energy and sizeable greenhouse gas contributors. Meanwhile, building HVAC systems must consume additional energy to remove the large amount of heat emitted by the refrigerator units into laboratory spaces. To reduce energy demands, Bio-Rad is upgrading old supply center refrigerators (22 amp draw) with new Energy Star commercial refrigerators3 (16 amp draw) free of charge to customers. All new Bio-Rad supply centers come with the energy-efficient units.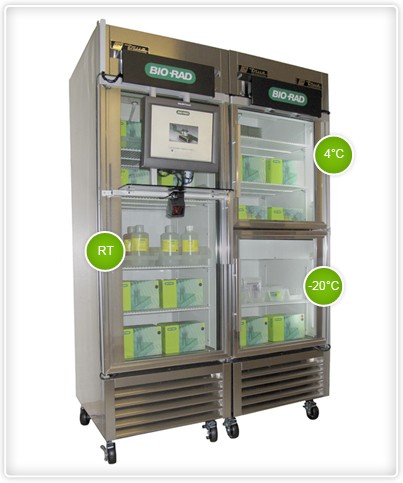 Today, there are 79 Bio-Rad supply centers in the U.S., of which 43 are automated. Bio-Rad continues to automate supply centers with the aim of reducing paper waste connected with older ordering systems. (The Caldwell lab is scheduled for a new fridge with automation in late February. Another supply center is slated to open on the UC Denver AMC campus this year.) Bio-Rad plans to increase its supply center sites to approximately 200 in the U.S. alone by the end of 2013. (For more information on Bio-Rad supply centers, please visit our website.)
Bio-Rad recognizes that sustainability is not an end state but a continuing process of improvement. We continue to learn from the exemplary green practices of our customers, like the University of Colorado. Additional green practices developed on our campus — headquartered in Hercules, California — will be highlighted in upcoming reports on BioRadiations.com.
Comments may be sent to:
bioradiations@bio-rad.com
1 The National Recycling Coalition recognized CU's cost-effective diversion of recyclables, promotion of recycling and resource conservation benefits, and opportunities for meaningful individual involvement with its first "Outstanding School Program" award in 1995.
2 Environmental Protection Agency report (2009).
3 TRUE refrigeration is meeting and exceeding CEC and DOE energy standards. Please visit www.truemfg.com for specific information.