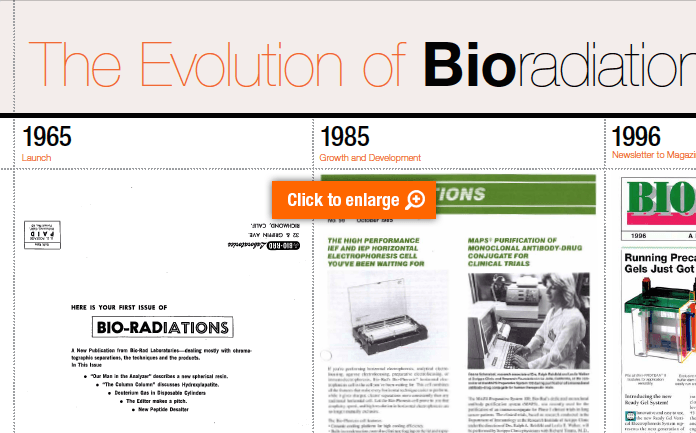 Have you ever wondered what this magazine is, dear Bioradiations reader? Why do we publish it? For whom? Since when? If so, this article is your chance to get some answers about Bioradiations, Bio-Rad Laboratories' technical resource, and take a quick foray into our publication's past.
On that note, did you know we've been doing this for 50 years? That's right; our first issue, a six-page printed newsletter "dealing mostly with chromatographic separations," mailed out to a few thousand readers in 1965, twelve years after Bio-Rad Labs first opened its doors.
Now, as you read these words on the screen of your phone, tablet, laptop, or even your wearable device, the changes in how we communicate information since the mid-1960s are immediately obvious. However, the purpose of Bioradiations, the "why" behind what we do, has remained a constant since that first six-page newsletter. That purpose is to give Bio-Rad's customers and larger community a place to learn about techniques and applications, to find in-depth technical information about our products, and to explore cutting-edge research and science in general. Some things change, some things don't.
With this mix of change and continuity in mind, we here at Bioradiations looked through our archives to select a few items — quotes, images, and the like
The first issue — peppy and quirky in 1965

"We feel that business should be fun, useful, and profitable — although not necessarily in that particular order," wrote the editor in the first issue of Bioradiations, which went out as a black & white newsletter. For fun, the regular items "Our Man in the Analyzer" and "The Column Column" added clever takes on chromatography topics. The front page story covered Bio-Gel® resins, a product line that is still sold today. Another article announced high-purity deuterium (a hydrogen isotope) gas for sale. This was the "Rad" in "Bio-Rad," standing for the "radiochemical" supplies the company used to sell.
The voice of the editor in the first issue stands out for its wit…and some quirkiness. Here he is, soliciting letters on lab techniques: "Communications should be confined to 150 words if possible, except in those instances where you are taking exception to the editor. Since he probably won't select such articles for publication you can let yourself go."
And who was this no doubt smiling editor? He finished his note, "For security reasons — personal security — the name of the editor shall remain anonymous."
The next 20 years — growth and … beer and wine?
As the publication grows alongside Bio-Rad, going to two colors and gaining pages, readers could also follow the integration of key biological research techniques into the company's business. Where early issues focused mainly on chromatography, stories on products and methods related to electrophoresis soon began to take up an equal amount of space.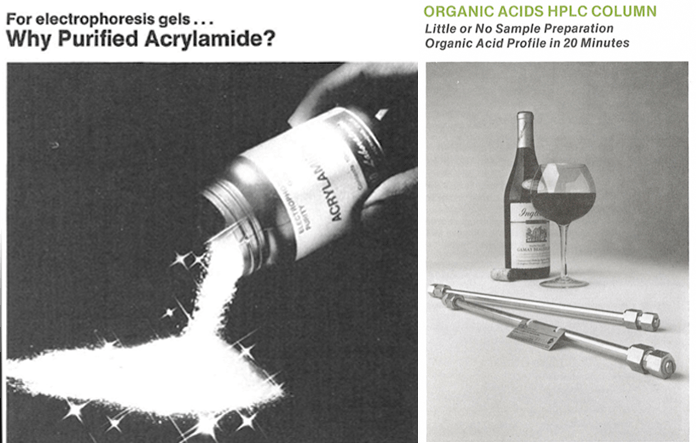 Some signs of the times emerge. One headline proclaims, "Power to the Electrophoresis!" (this was the San Francisco Bay Area in the 1970s, after all), though the subject was power supply modules, not social protest. Another offers "An Agarose for all Reasons." One gets a whiff of a more relaxed time in lab safety culture through an ad for "sneezeless" SDS. Later still, a crossword-style "Can you complete the sequence?" puzzle heralds the burgeoning Genomic Revolution.
While Bioradiations articles usually dealt with methods or products, an early story on customer research also was published during this time, profiling a group of testers who used a Bio-Cal 200 Amino Acid Analyzer to check the alcohol content of their favorite beers. One interesting result: the investigators found Guiness Stout to be 4.3% ABV, a number which, according to multiple sources, hasn't changed in the 40 years since their analysis. Several issues later, Bio-Rad testers demonstrated our Organic Acids Analysis HPLC Column by determining the organic acid content of wine (see image), perhaps taking advantage of the proximity of Bio-Rad's headquarters to Napa County, CA.
Becoming a Magazine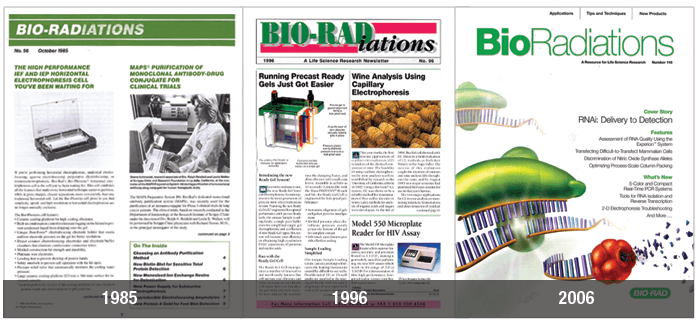 In the mid-1990s, Bioradiations changed from a newsletter format to become a full-color glossy magazine. Along with giving product news and technical information, articles now covered research in depth. Often, the researchers themselves became the authors, describing work in which they used Bio-Rad products. From the company's beginnings with chromatography and electrophoresis, Bioradiations was now covering Bio-Rad's role in supporting research areas such as transformation, transfection, and chemiluminescence- and fluorescence-based imaging.
Bioradiations today
In 2011, Bioradiations became an all-digital publication, with bioradiations.com regularly updated with a variety of content. We're often out at various labs, talking to your scientific peers about the excitement and challenges in their research and hearing about how they use Bio-Rad products in that research. We also regularly post the latest protocols and tips for cutting-edge lab techniques, as well as general articles about science and science education, videos, and social media content. Along with the online format, today's Bioradiations also reflects the global nature of the life science community — and of Bio-Rad's business — with stories set in South Korea, the Czech Republic, and Australia, among other locations. Now that we're an interactive resource, it's easy for our customers to contribute their insights and stories and help grow the conversation this magazine has become.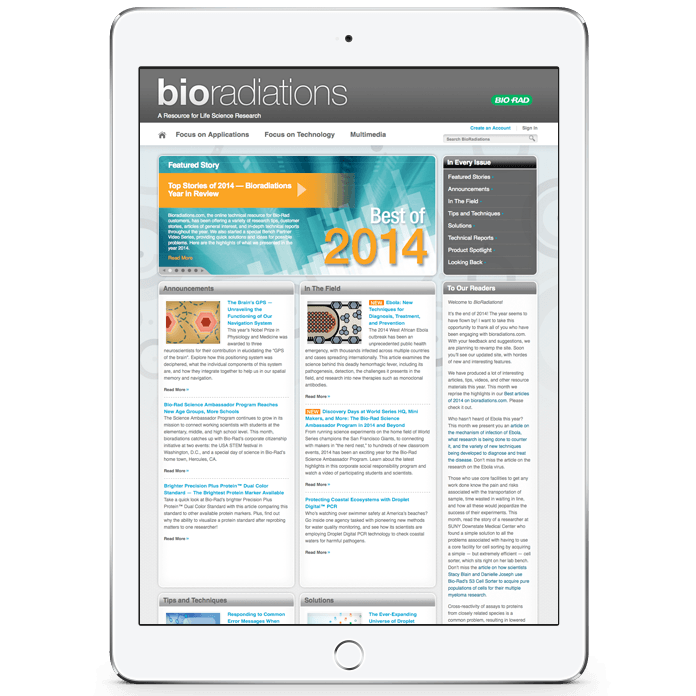 That's a quick look at how far we've come in the past 50 years. Now, we here at Bioradiations look forward to bringing you the stories of life science, the latest techniques and technical content, and the most up-to-date Bio-Rad product news for another 50 years!