Dominique Ingato discovered her passion for teaching while pursuing her PhD in Chemical and Biochemical Engineering at the University of California, Irvine. Now, as a full-time faculty member at MiraCosta College's Department of Biotechnology, Ingato invests her research experience and expertise in teaching a diverse array of courses, including design of experiments, biostatistics, and bioprocessing. Her dedication and enthusiasm towards her students are at the core of her endeavors.
As one of only fifteen community colleges in California to offer a bachelor's degree, MiraCosta College's bachelor's program in biomanufacturing is breaking ground, providing opportunities for students to pursue a variety of career paths. As part of this program, Ingato runs a next-generation chromatography (NGC) teaching lab, where students receive practical, hands-on training using state-of-the-art instruments, such as the NGC Chromatography System.
Q: What inspires you most about your work?
A: I completed several internships in the pharmaceutical industry, and although I enjoyed them, I felt that an industry career was not the best fit for me. I continued to graduate school where my research focused on drug delivery using nanoparticles to target tumor sites. While in graduate school, I taught courses at the undergraduate level and found my passion there. That is how I ended up at a teaching focused institution. At MiraCosta College, I teach in an area that I really enjoy, interact with industry, learn new things, and combine that with my passion for drug and biologic development. The most rewarding part is seeing students succeed in whatever they wish to achieve. We have students who know immediately that they want to work for a large company or pursue a graduate degree, and others who want to improve their skills and explore a little bit before deciding whether this is for them. We help them navigate that and determine what they want to do in the future. I hope to build an appreciation for community colleges as places where you can get amazing educational opportunities. I love it; I feel so lucky to be part of this.
Q: What chromatography instruments do you use in your teaching lab?
A: We have six Bio-Rad NGC Medium-Pressure Chromatography Systems in our labs. They are all configured in the same way, with the exact same modules, but the modularity of the system is quite helpful — depending on what your needs are, you can add or remove modules. We have the automated fraction collector, so that students do not necessarily need to sit next to the instrument, hold each tube and switch every minute. We also received a few new modules: we now have a pH module that allows us to determine the pH of what is passing through the instrument, as well as a column switching valve, which will be helpful for transitioning to our Design of Experiments class, where students can try many different columns in the same class session. Since our bachelor's degree program is relatively new, we are still developing and improving lab activities. As we make those decisions, it is easy for us to add these modules to our systems.
Q: For students new to this instrument, what is the learning curve like?
A: As a community college, we cap our classes at 20 to 30 students, which allows students to work in teams of four to six and get a lot of hands-on training. Some students feel intimidated when they first see the equipment, but from day one they learn how to use the instrument and software. By the second or third lab session, they are running an experiment to isolate caffeine from energy drinks. Within five to six weeks, students become proficient with the instrument, which shows that the NGC System is user friendly. As they progress through the upper division classes, they perform more challenging experiments — such as isolating green fluorescent protein — where they have free rein to test what columns and buffers work best and determine how they will achieve that separation on their own.
The surprising part is how quickly they feel comfortable running an experiment on their own. The NGC user interface is very intuitive — the visual step-by-step workflow illustrations are easy for students to follow. The system is beautiful compared to some of the instruments I was working on ten years ago — I wish I had this back then. For example, the automated fraction collector is a big deal. I have been in labs where an undergrad student spends their entire day manually collecting fractions. It is extremely helpful to have an automated system do that for you. During the class, I rotate between the six stations to make sure everyone is on track. Within a few weeks of working with the NGC Systems, students often do not need much assistance because this system is just that easy to use.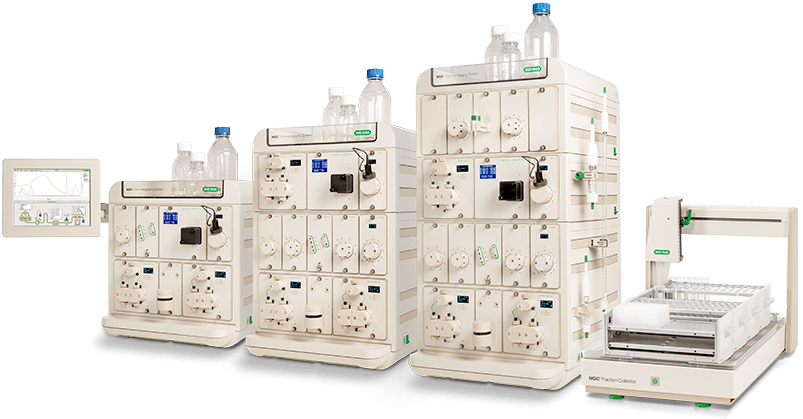 Uncover the ease of the NGC System or read another customer story.