Current vaccines against severe acute respiratory syndrome coronavirus 2 (SARS-CoV-2) have reduced the severity of coronavirus disease 2019 (COVID-19). However, the drastic and quick evolution of the virus poses challenges to the development of durable and efficacious therapeutics for vaccine and antibody developers alike. The Bio-Plex Pro Human SARS-CoV-2 Neutralization Antibody Custom Assay Developer Kit speeds up the qualitative measurement of neutralizing antibodies (NAbs) against new SARS-CoV-2 variants, removing a roadblock in COVID-19 therapeutic development.
Neutralizing antibodies inhibit SARS-CoV-2 infection by blocking the interaction between the viral Spike protein and the host cell–entry receptor angiotensin converting enzyme 2 (ACE2). These NAbs can be induced by vaccination or natural infection or developed and administered as monoclonal antibodies (Li et al. 2022). Although variations of these strategies have entered the clinic during the pandemic, SARS-CoV-2 is evolving faster than vaccines and therapies can be created and updated. Speeding these efforts up will require faster methods for studying the effectiveness of NAbs against emerging variants.
Traditionally, virus neutralization studies have often relied on cell-based assays such as the plaque reduction neutralizing test (PRNT) and pseudotyped virus neutralizing test (pVNT) to measure NAb efficacy. Although these assays are considered the gold standard, they require technical expertise, specialized laboratory environments, and time-consuming steps to carry out. PRNT, for example, must be performed in a biosafety level 3 laboratory, whereas pVNT requires the production of pseudotyped virus, a lengthy process that can involve cloning and stable cell line generation. In any case, both assays typically take several days to measure SARS-CoV-2 NAbs.
To provide a quicker alternative, Bio-Rad has introduced the Bio-Plex Pro Human SARS-CoV-2 Neutralization Antibody Custom Assay Developer Kit, which allows researchers to obtain results in a single day. This custom assay developer kit enables SARS-CoV-2 researchers to develop a NAb assay targeting any variant in virtually any research laboratory. Once developed, assays can be used to measure percent inhibition of neutralizing antibodies against new SARS-CoV-2 variants, such as Omicron. The multiplexing ability of the assay allows multiple antigens to be measured in a single well.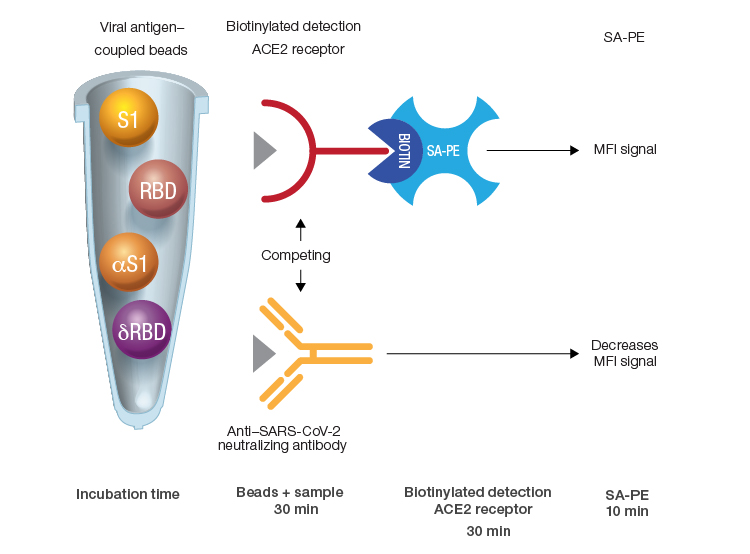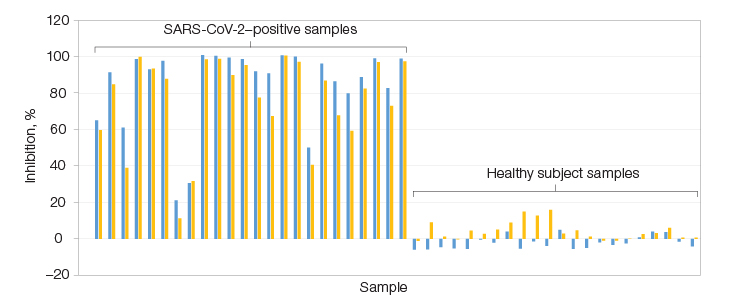 For more information about the kit, visit our product page.
References
Li D et al. (2022). SARS-CoV-2 neutralizing antibodies for COVID-19 prevention and treatment. Annu Rev Med 73, 1–16.