Using traditional fluorescence microscopes for everyday cell imaging can be frustrating, with a lot of time spent in the darkroom mastering a highly specialized piece of equipment, all to accomplish relatively simple tasks. The ZOE Fluorescent Cell Imager eliminates the complexities of cell imaging by combining the ease of use of a personal tablet with the power of an inverted microscope. An intuitive touch-screen interface is used to control brightfield, three fluorescence channels, and the integrated digital camera. This allows users to view samples, capture and store images, and create multicolor overlays.
Whenever you try to get cells that have a certain feature you have to screen quite a bit. With ZOE I could actually look quickly, screen my plates, and see what the expression levels are without even turning down the light. I just put the plate on the instrument — that's powerful.
— Michael Menze, PhD, Assistant Professor, Biological Sciences, Eastern Illinois University
The ZOE Cell Imager features:
Robust system ready for intensive daily use, with long-lasting LED display, integrated light shield, and hard-coated filter sets
Three fluorescence channels are optimized for most commonly used fluorescent proteins and dyes
Large field of view and motorized stage allow for easy viewing of large samples using touchscreen controls
Easy image capture with integrated digital camera; storage, editing, multichannel image merges using embedded software; and export in JPEG, TIFF, or RAW formats
Small footprint for easy benchtop use
The ZOE Cell Imager is ideally suited for these applications:
Estimating cell confluency
Observing general cell health and morphology
Monitoring cell growth and proliferation
Capturing brightfield or fluorescence images of cells
Visualizing expression of fluorescent proteins
Viewing immunofluorescent localization of proteins
Estimating transfection efficiency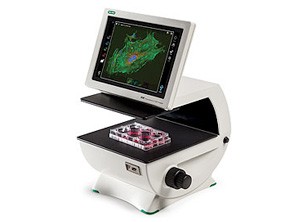 Fluorophores Compatible with the ZOE™ Fluorescent Cell Imaging System
This is not a comprehensive list; other dyes and fluorescent proteins with compatible excitation and emission spectra can also be used.
Ordering Information
| | |
| --- | --- |
| Catalog # | Description |
| 1450031 | Zoe Fluorescent Cell Imager |