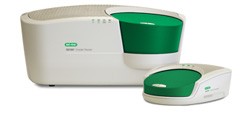 Researchers have now been using Bio-Rad's QX100™ Droplet Digital™ PCR system for over a year. Their work is beginning to take this system, based on the partitioning of samples into thousands of droplets for individual analysis, from the realm of promise to reality. We caught up with several early adopters, including the biotech companies MolecularMD and Horizon Discovery, for an in-depth look at how the QX100 system is being used in the field, and to find out whether or not this approach really does offer a better way to do digital PCR.
Creating Less Invasive Diagnostics for Lung Cancer Treatments
MolecularMD is a company that seeks to make personalized medicine a reality by developing molecular tests for biomarkers targeted by new oncology drugs. They wanted to develop an assay to detect mutations in epidermal growth factor receptor (EGFR), an important therapeutic target for many lung cancers. A better understanding of EGFR mutations would go hand in hand with validating the efficacy of tyrosine kinase inhibitors (TKIs) in suppressing higher EGFR activity associated with some lung cancers. This window into EGFR mutations also promises to help doctors monitor how individual patients respond to these next-generation cancer drugs.
A stumbling block in TKI-based therapies has been occurring in patients due to a mutation to EGFR's kinase domain that emerges over time, impeding TKI binding and creating a resistance to TKI-based drugs. The assay MolecularMD sought to develop would monitor patient blood samples for this mutation, T790M. Accomplishing this would make a significant improvement to the tissue-based assays used previously, offering both a better prognostic marker for drug resistance and eliminating the need for patients to undergo invasive tissue collection procedures.
Traditional PCR assays lack the sensitivity needed to reliably distinguish between wild-type EGFR and the T790M mutation in blood samples. Real-time PCR methods also posed an accuracy problem, due to their reliance on the limitations of TaqMan binding as well as a standard curve or reference control to calculate copy numbers. To have a T790M assay that would reliably indicate treatment efficacy, MolecularMD needed to overcome both the high abundance of background EGFR and the low volume of a patient blood sample.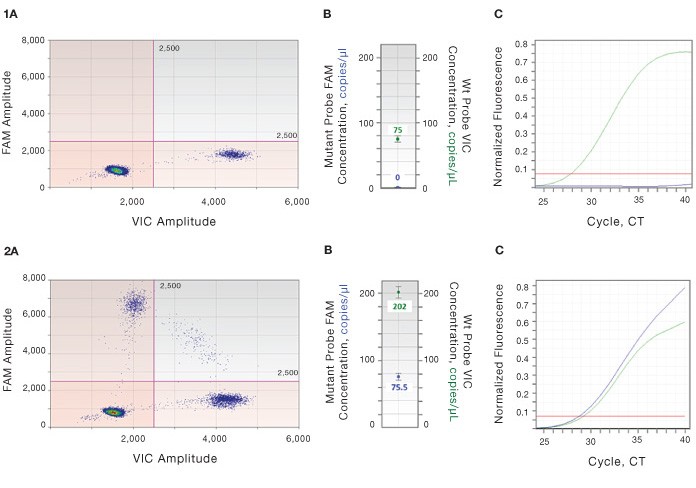 In 2012, MolecularMD acquired a Bio-Rad QX100 Droplet Digital PCR system to develop their T790M assay. Since the instrument uses sophisticated microfluidics technology to partition each sample into nanoliter-size droplets and each droplet is analyzed separately, it is ideally suited for detecting rare events such as the T790M mutation. Instead of trying to analyze a single bulk sample, the droplet partitioning creates thousands of mini-samples, diluting out the background wild-type EGFR and increasing the relative abundance of the T790M mutant within specific droplets. In practice, the data showed the QX100 digital PCR system to be about ten times more sensitive in detecting T790M than a competitor's real-time PCR device.
"Droplet digital PCR enabled us to report our plasma data with accuracy," said Dr. Sabita Sankar, scientific affairs liason at MolecularMD. "While there are other digital technologies available, the QX100 [ddPCR] system was best suited for our research as it allowed the flexibility to work with varying sample sizes."
Reproducibility was also essential for MolecularMD in developing a robust diagnostic for clinical use. Small sample quantities of patient plasma meant investigators could perform only a limited number of reactions to detect and confirm results. By removing the need to calculate target copies using a standard curve required by qPCR, utilizing the QX100 PCR system lowered theT790M assay's complexity and cost, a vital factor for widespread use in clinical labs.
"I am always hesitant when investing in new technology, but I was pleasantly surprised by the QX100 system's reproducibility and sensitivity," said Dr. Sankar. "Droplet digital PCR catches things that qPCR often misses. [Now,] if you see something there, you know it's real."
Delivering More Precise Customized Cell Lines
UK-based gene-editing company Horizon Discovery employs homologous recombination to produce engineered cell lines for a range of applications including basic research, drug discovery and testing, and translational medicine. Their products include custom cell lines made to the exact specifications of researchers, usually to create in vitro disease models consisting of both mutant and wild-type alleles. These tools' usefulness greatly depends on their accuracy, whether they involve SNPs or more extensive manipulations to genomic DNA (gDNA).
Detecting exact concentrations of mutant alleles in these sophisticated cell-based models proved a limiting factor in their effectiveness. To validate their products before providing them to customers, Horizon Discovery had to use Sanger sequencing, which requires around 20% mutation abundance as a minimum threshold. In addition, Sanger sequencing methods aren't quantitative, so could provide only relative results. Such limitations meant that these cell lines could not be validated thoroughly.
Acquiring a QX100 ddPCR system enabled Horizon Discovery to address this problem while also improving workflow efficiency for developing custom cell lines.
"Droplet Digital PCR is very easy to set up and implement and has allowed us to validate our products more effectively," said Christopher Thorne, leader of the cell genotyping team at Horizon Discovery. "For copy number and SNP analysis, the technology has been absolutely brilliant. The accuracy and speed with which we can develop assays has been invaluable."
Using the QX100 system, Horizon Discovery could now obtain the absolute quantification of mutant DNA in the engineered cell lines rather than estimating it, allowing them to meet customer needs with greater specificity.
"All the extra levels of information we receive from ddPCR about our cell lines have been extremely useful in selecting the best possible clones to supply to our customers," said Thorne.
The QX100 ddPCR system has also transformed the company's gene-editing workflow, enabling better targeting by the company's unique AAV vectors. Previously, Horizon Discovery had compared its vectors using a labor-intensive, multi-step process that took several weeks to complete. Now they use ddPCR to assess targeting levels in a pool of infected cells, obtaining an absolute quantification of the relative proportion of wild-type to mutant allele in the cells.
"Using ddPCR to improve our vector targeting system has turned a three-week process into an afternoon's work," said Thorne.

ddPCR in Other Research Applications
Users at PCR data analysis company Biogazelle needed more robust copy number variation analysis, as well as a better tool for rare event detection. "[Droplet] Digital PCR offers higher resolution and sensitivity that gives researchers the ability to measure smaller differences and accurately quantify minority variants in the background of a wild-type sequence," said Biogazelle Project Manager Ariane De Ganck.
Nolan Kamitaki, an undergraduate student in Steve McCarroll's lab at Harvard University, said, "The QX100 [ddPCR system] has revolutionized our lab." He cited the system's ability to scale up from analyzing a few genes to dozens quickly and efficiently, at a lower preparation time and cost than with other systems. The clearer results the QX100 system provides for SNP analysis have allowed the McCarroll lab to conduct structural haplotyping studies it had not previously been able to do, furthering the lab's research in gene expression in psychiatric illnesses. Dr. McCarroll has been a pioneer in using the QX100 system since it first became available in 2011. This BioRadiations article describes how ddPCR has helped McCarroll further his research by precisely and reproducibly measuring copy number variations.
Sangamo BioSciences, Inc., in Richmond, CA is using the QX100 Droplet Digital PCR system in developing a functional cure for HIV. Read more about how ddPCR enables a robust rare sequence detection capability, allowing Sangamo scientists to accurately detect and quantify small amounts of HIV DNA in large, complex samples.
Learn more about the QX100 system with further applications described in scientific journal publications, videos, and more.
Tell us about your work involving droplet digital PCR at bioradiations@bio-rad.com.
Taqman is a trademark of Roche Molecular Systems, Inc.