Bio-Rad's new Reliance One-Step Multiplex Supermix delivers the most reliable approach to maximizing throughput and quality of qPCR data. It's a powerful solution for amplifying multiple targets directly from RNA.
What Makes Reliance One-Step Multiplex Supermix the Right Choice?
RT-qPCR is critical across several industries and applications, including drug discovery, virus/pathogen detection, biofuels, and food safety. Yet, for researchers seeking quick detection of several RNA targets, common problems such as poor reproducibility and poor sensitivity hinder their progress. Other challenges may exist, as well, like limited multiplexing capability and an inability to increase throughput via automated workflows. For the researcher hoping to quantify differences in the RNA levels of multiple targets across multiple samples and conditions, working with limitations just isn't an option.
Reliance One-Step Multiplex Supermix is a ready-to-use, single-tube, 4x master mix optimized for sensitive amplification of up to five targets in a single reaction. It's formulated with a proprietary, chimeric Reliance Reverse Transcriptase, a blend of high-performance DNA polymerases, including Sso7d Fusion Polymerase, and an advanced reaction buffer for maximized sensitivity and efficiency in multiplex RT-qPCR reactions. Pre-blended with a patented* universal reference dye including ROX, this mix enables detection in any qPCR instrument. And its extended assembled reaction stability (up to 24 hours) is perfectly adapted for automated workflows.

Exceptional Performance of 5-Target Multiplex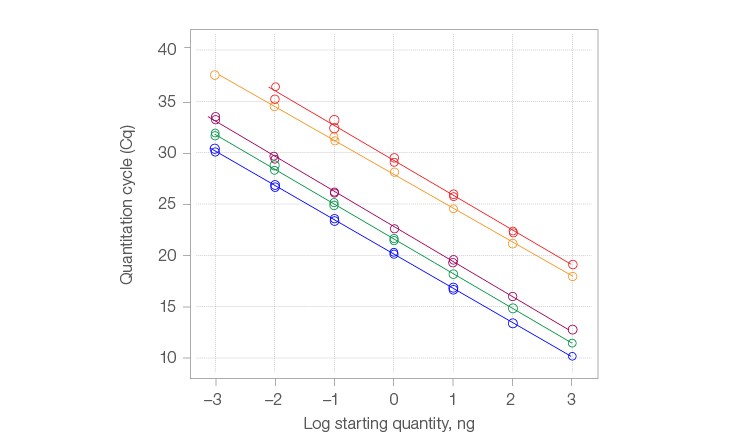 Reporter Dye
Assays
Efficiency
R2
Slope

—

FAM
ACTB
99.0%
1.000
–3.346

—

HEX
NGFRP
100.5%
0.999
–3.311

—

Texas Red
TBP
97.6%
0.997
–3.382

—

Cy5
EF1a
96.6%
0.999
–3.406

—

Cy5.5
GAPDH
96.9%
1.000
–3.397
Learn more about our Reliance One-Step Multiplex Supermix.
Ordering Information
| | |
| --- | --- |
| Catalog # | Description |
| 12010176 | Reliance One-Step Multiplex Supermix, 1 ml (1 x 1 ml vial), 200 x 20 μl reactions |
| 12010220 | Reliance One-Step Multiplex Supermix, 5 ml (5 x 1 ml vials), 1,000 x 20 μl reactions |
| 12010221 | Reliance One-Step Multiplex Supermix, 10 ml (2 x 5 ml vials), 2,000 x 20 μl reactions |