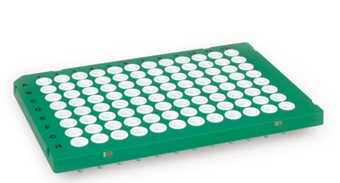 Bio-Rad introduces new Hard-Shell 96-well semi-skirted low-profile PCR plates for optimal performance with a variety of real-time PCR systems. Researchers who are currently using the Applied Biosystems 7500 Fast, ViiA 7 Fast, and 9800 and Veriti fast instruments can now experience the benefits of Bio-Rad's patented Hard-Shell plate technology. The Hard-Shell plates do not warp during thermal cycling and have black alphanumeric labeling to facilitate sample loading. The highly uniform thin walls facilitate efficient heat transfer during the thermal cycling process, helping to ensure reliable qPCR data.
These plates have been designed to work with a variety of sealing options, enabling scientists to select the sealing option that best fits their experimental workflow. Optical flat caps provide extremely tight sealing and help minimize sample evaporation with these plates. Additionally, the plates are validated with Microseal 'B', the optically clear seal with an aggressive adhesive layer for tight sealing, and Microseal 'C', a clear real-time PCR seal that will not stick to gloved hands.
The strong polycarbonate shell that distinguishes Bio-Rad's Hard-Shell plate line is excellent for thermal sealing methods. Heat sealing, using instruments such as the PX1 PCR plate sealer, removes human variability from plate sealing. The line of Bio-Rad heat sealing films and foils permits negligible sample evaporation and can be used in many different PCR applications.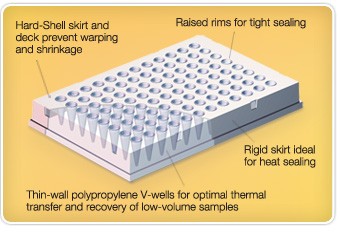 Bio-Rad offers an array of Hard-Shell plates for many thermal cyclers. Each plate is rigorously validated to confirm compatibility with the desired instruments. Benefits of the Hard-Shell plates include:
Superior stability and flatness
Extremely uniform wells that reduce well-to-well variability in optical assays such as those used in real-time PCR
Thin walls for fast PCR
White-well option, which allows increased fluorescent signal strength
Low-cost, user-readable bar codes to enable convenient database tracking
Free of DNase, RNase, and human DNA
Ordering Information
Catalog#
Description
Hard-Shell 96-Well Semi-Skirted PCR Plates, Low-Profile
HSL9601
Clear well, clear shell (25 Plates)
HSL9901
Clear well, clear shell (Barcoded, 25 Plates)
HSL9641
Clear well, green shell (25 Plates)
HSL9605
White well, clear shell (25 Plates)
HSL9905
White well, clear shell (Barcoded, 25 Plates)
HSL9645
White well, green shell (25 Plates)
PCR Sealing Options
MSB1001
Microseal 'B' Adhesive Seals, 100 seals
MSC1001
Microseal 'C' Optical Seals, 100 seals
TCS-0803
Optical Flat 8-Cap strips, 120 seals
1814000
PX1 PCR Plate Sealer
1814030
Optically Clear Heat Seal, 100 seals