The next iteration of Bio-Rad Gel Documentation Systems has arrived. The GelDoc Go Imaging System gives you a benchtop imaging solution that enables gel documentation in three simple steps. Acquire high-resolution, publication-quality images of nucleic acid gels, protein gels, and colorimetric blots. Image up to four mini gels at once with the large imaging area supported by the system's advanced optical design. Easily set up and control the GelDoc Go Imaging System with Image Lab Touch Software. Do all of this thanks to the decade of innovation housed within the GelDoc Go System's compact form.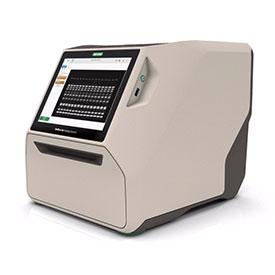 Bio-Rad Gel Documentation Systems are market-leading, reliable, and easy-to-use imaging platforms for nucleic acid and protein gels.  As a benchtop imaging solution, the GelDoc Go System comes in a compact and evolved package. It provides high-resolution imaging with user-friendly software and minimal set up time. Its small footprint means it can fit on a laboratory bench.
The GelDoc Go System uses the Bio-Rad QuickSight Camera to capture sharp and crisp images suitable for publication.  Smart Tray technology automatically adjusts imaging parameters and software options to meet the specific needs of nucleic acid and protein gels. The GelDoc Go System comes with a UV/Stain-Free Tray for nucleic acid imaging, Stain-Free protein imaging imaging using epi-white illumination. Optional Blue and White Trays enable additional applications, including safe gel band excision or Coomassie and other trans-white applications.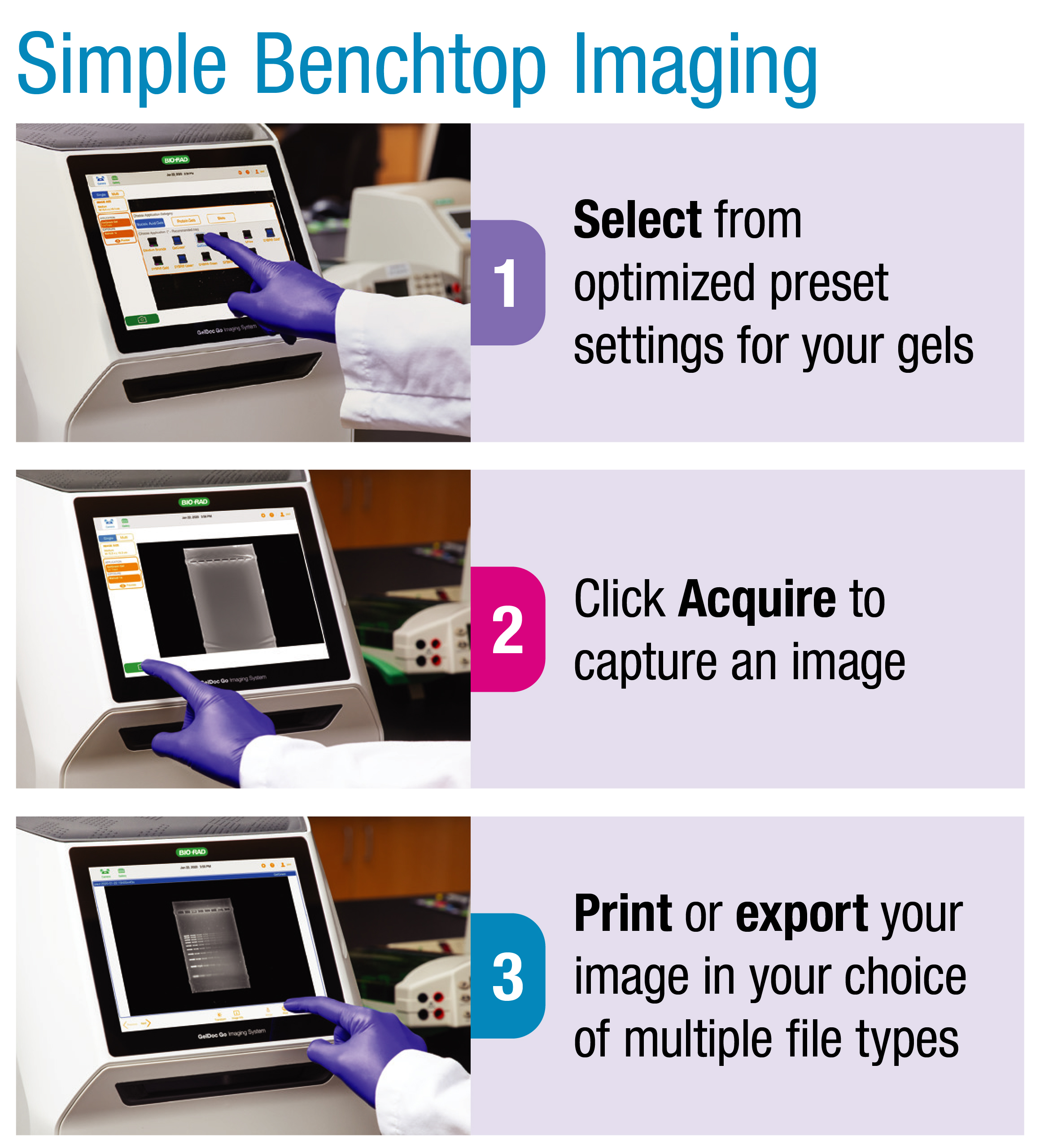 In addition to its hardware, the GelDoc Go System features intuitive Image Lab Touch Software onboard, with capabilities such as automatic image capture and analysis, programmable user preferences, and many other features. The GelDoc Go System interface can be quickly set up to capture images, add notes, and export or print the files. The software allows easy management of user accounts, permissions, and security options. Click here to demo the software. The GelDoc Go System also works with Image Lab Desktop Software, enabling a deep and accurate analysis of gel data. Analyzed data can be exported to a spreadsheet or archived in an electronic laboratory notebook.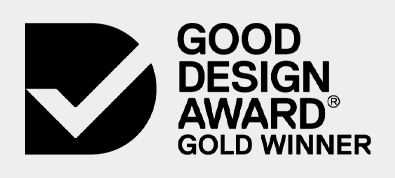 In 2020, the GelDoc Go System was recognized by Good Design Australia, a long running international design award organization, for its excellence in design and innovation. The GelDoc Go System packages a lot of functionality — a large and accessible sample area, light paths, optics, and electronics — in a small footprint. The space efficiency of the GelDoc Go System is built on a decade of patented optics and QuickSight Camera technology, which allow industry-leading detection of proteins and nucleic acids. A significant improvement in imaging speed and sensitivity means less time spent queuing for imaging on more expensive and time-intensive imagers. Click here to take an interactive tour of the GelDoc Go System.
Powerful enough to move your research forward. Small enough to fit anywhere. Contact your Bio-Rad specialist for more information.