Bio-Rad's latest semi-dry transfer system, the Trans-Blot Turbo, has changed the way researchers think about western blot transfers. Compared to traditional tank blotting, which typically takes 60 minutes to several hours, the Trans-Blot Turbo system and the associated transfer packs cut blot transfer time to as little as 3 minutes without sacrificing transfer quality.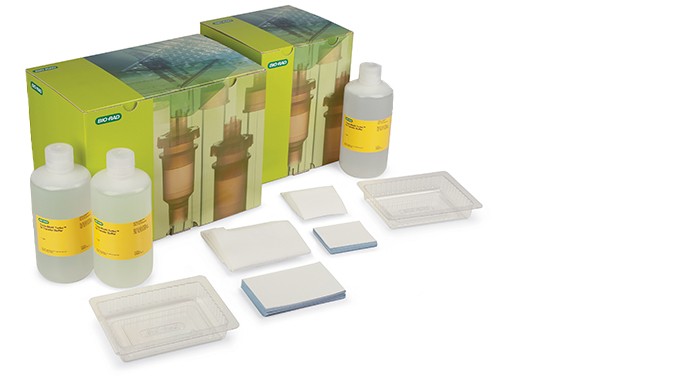 The new Trans-Blot Turbo RTA transfer kits offer the same performance at a more affordable price. They are offered in packages of 40 blots, consisting of membranes, filter paper, and a specially formulated transfer buffer. Whereas the Trans-Blot Turbo transfer packs come as pre-wet and assembled sandwiches, the new RTA transfer kits require membrane sandwich assembly by the user.
The different membrane options include nitrocellulose, PVDF, and low fluorescence PVDF.
Ordering Information
Catalog #
Description
1704270
Trans-Blot Turbo RTA Transfer Kit, Mini, Nitrocellulose, for 40 blots
1704271
Trans-Blot Turbo RTA Transfer Kit

, Midi, Nitrocellulose, for 40 blots

1704272
Trans-Blot Turbo RTA Transfer Kit

, Mini, PVDF, for 40 blots

1704273
Trans-Blot Turbo RTA Transfer Kit

, Midi, PVDF, for 40 blots

1704274
Trans-Blot Turbo RTA Transfer Kit

, Mini, LF PVDF, for 40 blots

1704275
Trans-Blot Turbo RTA Transfer Kit, Midi, LF PVDF, for 40 blots