FastCast acrylamide solutions bring the latest chemistry in gel electrophoresis to those who hand cast gels, offering increased convenience, speed, and performance over traditional handcast gels.
Advantages of the TGX™ and TGX Stain-Free™ FastCast™ acrylamide kits:
Ready-to-run handcast gels in 30 minutes
Long shelf life — gels are good up to 1 month at 4°C after casting
Accelerated workflow with 20 minute runs and 3 minute transfers
Additional benefits of TGX Stain-Free FastCast acrylamide kits:
Visualize proteins in 5 minutes with stain-free technology
No more fixing, staining, and destaining necessary
Monitor success of electrophoresis and transfers through stain-free visualization of gels and membranes
FastCast kits provide unparalleled convenience and performance.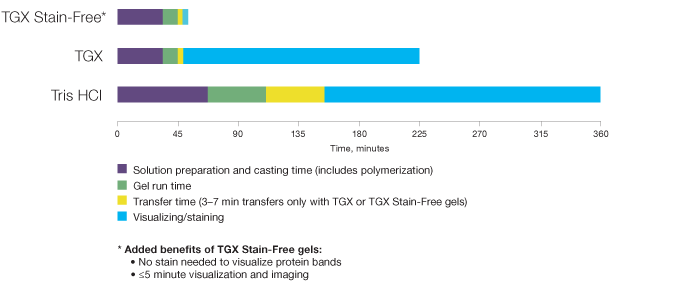 To learn more about FastCast kits, please download the FastCast acrylamide kits brochure, or visit the TGX Stain-Free FastCast or TGX FastCast page.
Ordering Information
| | |
| --- | --- |
| Catalog # | Description |
| 161-0170 | TGX FastCast Acrylamide Starter Kit, 7.5% |
| 161-0171 | TGX FastCast Acrylamide Kit, 7.5% |
| 161-0172 | TGX FastCast Acrylamide Starter Kit, 10% |
| 161-0173 | TGX FastCast Acrylamide Kit, 10% |
| 161-0174 | TGX FastCast Acrylamide Starter Kit, 12% |
| 161-0175 | TGX FastCast Acrylamide Kit, 12% |
| 161-0180 | TGX Stain-Free FastCast Acrylamide Starter Kit, 7.5% |
| 161-0181 | TGX Stain-Free FastCast Acrylamide Kit, 7.5% |
| 161-0182 | TGX Stain-Free FastCast Acrylamide Starter Kit, 10% |
| 161-0183 | TGX Stain-Free FastCast Acrylamide Kit, 10% |
| 161-0184 | TGX Stain-Free FastCast Acrylamide Starter Kit, 12% |
| 161-0185 | TGX Stain-Free FastCast Acrylamide Kit, 12% |