To create the PrecisionAb line of validated western blotting antibodies, we screen thousands of antibodies to identify the few that meet our strict criteria for sensitivity, specificity, and reproducibility. Every antibody undergoes a rigorous vetting process using Bio-Rad's V3 Western Workflow™, which includes four key features to ensure that a PrecisionAb Antibody will work every time.
Explore PrecisionAb Antibodies.
Four Key Features that Set PrecisionAb Antibodies Apart
Multiple Physiologically Relevant Test Lysates
Each antibody is screened against up to 12 different lysates expressing endogenous levels of target protein to ensure that it unambiguously detects its target in relevant cell and tissue types
Verified Protein Integrity and Transfer Efficiency
Proteins are separated using TGX Stain-Free™ Gels, and sample integrity and transfer efficiency are assessed using stain-free imaging
Rigorous Quantitative Quality Control for Sensitivity and Specificity
Blots are normalized using stain-free total protein normalization and antibody performance is measured against strict quantitative criteria
Complete Transparency
Uncropped and unmodified validation blots are posted to each antibody product page along with the validation protocol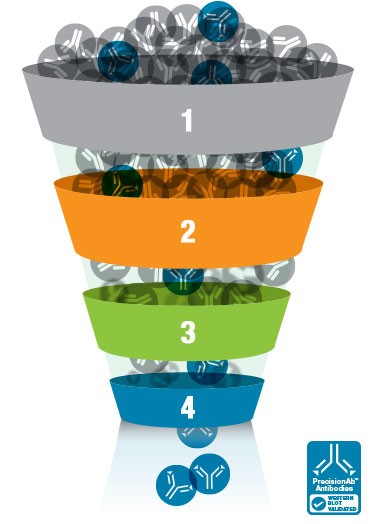 Watch this video for more insight into the creation and validation of the PrecisionAb Antibody product line.