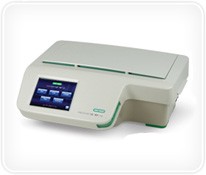 Each channel in the i12™ focusing tray is powered by its own power supply, enabling precise control over each IPG strip. This makes it possible to run different sample types, different gradients, and multiple protocols all at the same time.
This unique ability provides optimization of experiments in fewer runs, increased lab productivity by allowing multiple experiments to be performed simultaneously, and obtain quality data by reducing experimental risk.
The PROTEAN i12 IEF system can run one to 12 IPG strips in 7, 11, 13, 17, 18, and 24 cm focusing trays and is used for isoelectric focusing on immobilized pH gradient (IPG) strips for the first dimension of two-dimensional (2-D) electrophoretic protein analysis.
The cell is fully programmable from the user interface; connection to an external computer is not required. Data generated by the system can be transferred to a flash drive and opened in Excel or in the PROTEAN i12 Reporter, a free web-based application for graphing and analyzing data, creating protocols, and printing reports.
The i12 focusing trays and electrode assemblies accommodate all possible gel configurations (gel-side up or down, with or without electrode wicks). It also allows sample loading either by inclusion in the rehydration solution (in-gel loading) or with sample cups (sample cup loading).
Features and Benefits
Optimization of experiments in fewer runs
Increased lab productivity by performing multiple experiments at once
Obtaining better quality data with less experimental risk because one irregular sample can no longer compromise the entire run
Easy, intuitive programming
Flexibility to run gel-side up, gel-side down or with loading cups
Specifications
Input power
100–240 VAC, 50/60 Hz
Fuse
2 ea. 6.3 A time delay 5 x 20 mm
Power input
IEC 60320 standard cord set with ground
Power output
   Voltage
0, 50–10,000 V, 1 V increments
   Current
0–100 µA, 1 µA intervals
   Power
0–1 W per lane
Peltier platform
   Tray capacity
1 tray
   Temperature
10–25°C ± 1.0°C @ max ambient 23°C
18–25°C ± 1.0°C @ max ambient 31°C
Focusing trays
   Material
Polycarbonate
   IPG strip length
7, 11, 13, 17, 18, and 24 cm
   Capacity
1–12 IPG strips per focusing tray
   Channel volume
7 cm–7 ml, 11 cm–10 ml,
13 cm–11.2 ml, 17 cm–14.2 ml,
18 cm–15.2 ml, 24 cm–20.2 ml
Rehydration/equilibration trays
   Material
Polystyrene
   Capacity
1–12 IPG strips per tray
   IPG strip length
7, 11, 13, 17, 18, and 24 cm
   Channel volume
7 cm–6.8 ml, 11 cm–9.6 ml,
13 cm–10.5 ml, 17 cm–14.2 ml,
18 cm–16 ml, 24 cm–19 ml
Environmental requirements
For indoor use only, at altitudes up to 6,000 ft
Operate at 10–350°C ambient, with maximum
90% relative humidity
Regulatory
   Safety
EN 61010-1:2001, IEC 61010-1:2001
Use NRTL to test for compliance to UL61010-1:2004 and CAN/CSA
C22.2 No. 61010-1-04
   EMC
EN61326 (1997 w/A1:98) Class A
FCC Code of Federal Regulations,
Title 47, Part 15, Subpart B, Class A
   Other approvals
RoHS/WEEE Research Materials to determine level of EFUP
Dimensions
7.3 x 13.6 x 18.1 inches
Weight
19 lbs
User Interface
   Display
QVGA resolution (320 x 240) touch screen or mouse control
   Programmable
Yes
   Ramping
Step, linear, gradual, and hold voltage ramping for each focusing step. Hold mode as a final step to prevent diffusion when IEF is complete
   Protocol    capacity
2 GB
   Data collection
.dat format
Ordering Information
| | |
| --- | --- |
| 164-6000 | PROTEAN i12 IEF Isoelectric Focusing System, includes basic unit, electrode assemblies, focusing and rehydration/equilibration trays, forceps, electrode wicks, mineral oil, cleaning accessories, IPG strips and sample/rehydration buffer, USB flash drives, styluses |
| 164-6001 | i12 IEF Isoelectric Focusing Cell, includes basic unit, electrode assemblies, and 3 styluses. Focusing trays and other accessories sold separately. |