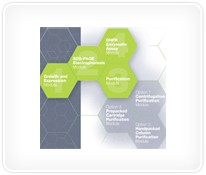 Bio-Rad's Biotechnology Explorer program takes complex research techniques and creates educational lab activities that provide hands-on experience with the technique. These educational materials are the perfect way to train students or new researchers on using complex instruments, such as Bio-Rad's BioLogic™ LP or BioLogic DuoFlow™ chromatography systems.
Our new Protein Expression and Purification Series walks beginning researchers and students through the purification process and clearly explains how to use Bio-Rad's BioLogic LP or DuoFlow instruments. A centrifugation purification option is also available.
The Protein Expression and Purification Series will help you have more time for your research by reducing the time spent on training beginning researchers and students. If you have teaching responsibilities, the Protein Expression and Purification Series will reduce the time spent on your teaching preparations. The series is a ready-to-go lab course, including relevant background and protocols that work. A module on student assessment is also available. The series easily allows you to address the following range of topics:
Cancer treatment targets
Research and development
Biomanufacturing
Protein purification (chromatography)
Enzymatic analysis
To discover more about this unique series, including how dihydrofolate reductase (DHFR) is a target for certain cancer treatments and how the protein expression and purification process is vital to the world of biomanufacturing, view our webinar at
www.bio-rad.com/webinars.
Visit us at explorer.bio-rad.com or contact us at
biotechnology_explorer@bio-rad.com to learn more.