The Bio-Plex Pro human Th17 cytokine panel is a unique blend of magnetic bead–based multiplex immunoassays for the robust and reproducible measurement of 15+1 soluble proteins involved in the T-helper cell type 17 immune response pathway. This pathway is thought to play a key role in such conditions as:
Rheumatoid arthritis, lupus, psoriasis, multiple sclerosis, and other autoimmune diseases
Antimicrobial immunity
Transplant rejection
Cancer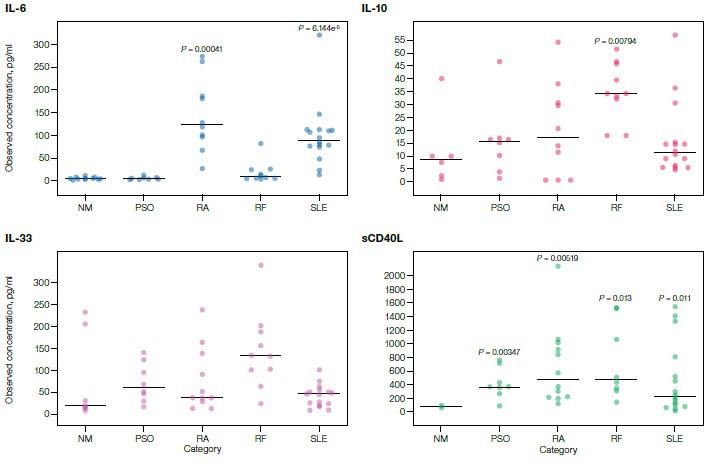 The human Th17 assays include several useful human biomarkers. Performance data for these assays are provided below.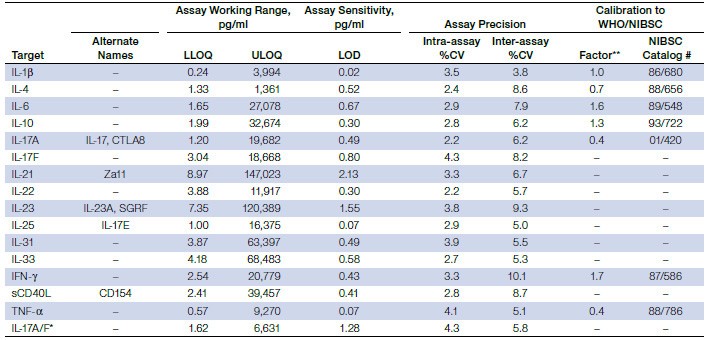 The features that enhance the quality and ease of use of these assays are:
Reagent kit II, with diluents optimized for serum and plasma samples
Assay quick guide
Assay protocol optimized for high-precision and broad-assay working ranges
2-level quality controls with premixed kits
Ordering Information
Catalog#
Description

Human Th17 Cytokine Assays

Human Th17 Premixed, All-In-One Kit
171-AA001M

Bio-Plex Pro Human Th17 Cytokine Panel, 15-Plex, 1 x 96-well, includes premixed coupled magnetic beads, detection antibodies, standards, 2-level controls, detection antibody diluent, standard diluent HB, sample diluent HB, assay buffer, wash buffer, streptavidin-PE, 96-well flat bottom plate, sealing tape, and instructions for detecting:

IL-1β
IL-4
IL-6
IL-10
IL-17A
IL-17F
IL-21
IL-22
IL-23
IL-25
IL-31
IL-33
IFN-γ
sCD40L
TNF-α

IL-17A/F not included

Human Th17 Singleplex Sets, 1 x 96-well
171BA001M
IL-1β
171BA002M
lL-4
171BA003M
lL-6
171BA004M
IL-10
171BA005M
IL-17A
171BA006M
IL-17F
171BA007M
IL-21
171BA008M
IL-22
171BA009M
IL-23
171BA010M
IL-25
171BA011M
IL-31
171-BA012M
IL-33
171BA013M
IFN-γ
171BA014M
sCD40L
171BA015M
TNF-α
171BA016M
IL-17A/F
Reagent Kits for Use with Human Th17 Assays
171304055
Bio-Plex Pro Reagent Kit ll with Filter Plate, 1 x 96-well, includes detection antibody diluent, standard diluent HB, sample diluent HB, assay and wash buffers, streptavidin-PE, filter plate, and sealing tape, for vacuum separation methods
171304055M
Bio-Plex Pro Reagent Kit ll with Flat Bottom Plate, 1 x 96-well, includes detection antibody diluent, standard diluent HB, sample diluent HB, assay and wash buffers, streptavidin-PE, flat bottom plate, and sealing tape, for magnetic separation methods
Human Th17 Standards
171DA0001
Bio-Plex Pro Human Th17 Cytokine Standard, pkg of 1 vial, lyophilized mixture of 16 standard antigens
171DA0501
Bio-Plex Pro Human Th17 Cytokine Standard, pkg of 50 lot-matched vials, lyophilized mixture of 16 standard antigens