Bio-Plex Data Pro is an efficient data analysis and visualization tool for analyzing multiplex data. It combines multiple instrument runs and helps you understand what the data say about your biological system. The software lets you:
Organize Your Data
Merge, import, sort, and filter data from multiple instrument runs
Eliminate auditing time
Improve confidence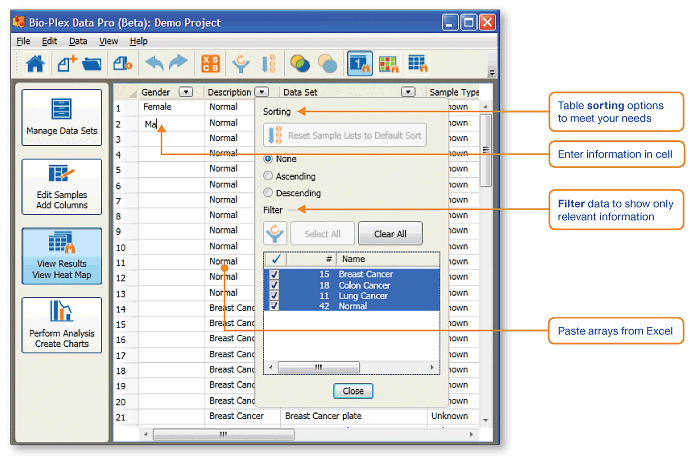 Automate Your Calculations
Perform common calculations quickly
Statistically verify your outcomes with confidence
Visualize Your Results
Conceptualize and present your results quickly
Choose among bar graphs, scatter plots, and more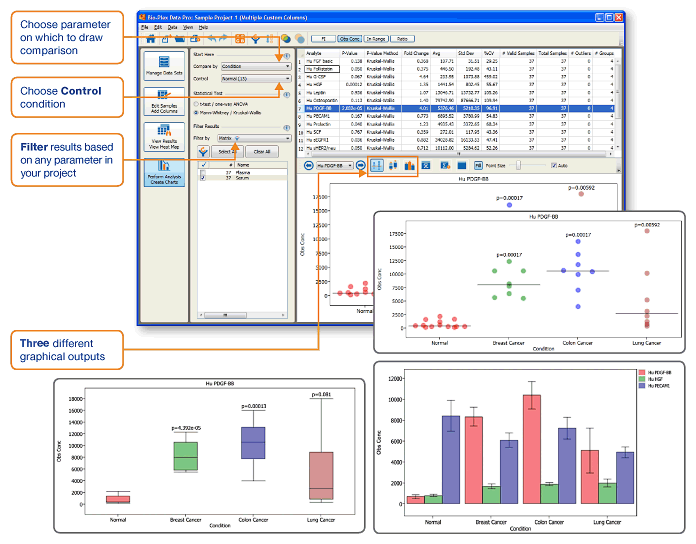 Bio-Plex Data Pro software transforms complex data into meaningful results so that you can spend more time unraveling important biological questions.
Download a trial version at www.bio-rad.com/ad/datapro
Ordering Information
Catalog#
Description
Up to 10 data files per project
171-001510
Bio-Plex Data Pro Software with Bio-Plex Manager Software Bio-Plex Data Pro software (5 seats), for multi-experiment analysis and advanced data visualization, and Bio-Plex Manager software (5 seats), for instrument data evaluation and optimization. CDs and security HASP key included
171-001513
Bio-Plex Data Pro Software Bio-Plex Data Pro software (5 seats), for multi-experiment analysis and advanced data visualization