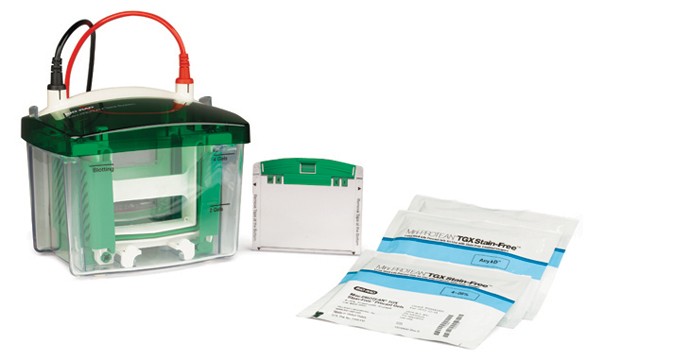 Mini-PROTEAN TGX Stain-Free precast gels are now available in gradient format. This unique gel formulation allows for fast gel electrophoresis and blotting, and does not require staining and destaining for imaging. The gradient gels are ideal for use in electrophoresis and western blotting experiments where complex samples, such as lysates or partially purified proteins, are used. Similar to the Mini-PROTEAN® TGX™ gels, the Mini-PROTEAN TGX Stain-Free gels offer good resolution over a wide molecular weight range. Additionally, the ability to quickly run gels (15 minutes), blot (3–7 minutes), and image (5 minutes without staining), enables completion of the entire western blotting procedure well within a working day.
The Mini-PROTEAN TGX Stain-Free precast gels are available in several gradients, including 4–15%, 4–20%, and 8–16%, in addition to the existing single percentage format.
Ordering Information
Learn more about stain-free technology.