Embedded videos
Embedded videos within article
Code
<iframe src="//www.youtube.com/embed/2CDaoMNm6Fk?rel=0&showinfo=0&enablejsapi=1&version=3″ width="750″ height="422″ frameborder="0″ allowfullscreen="allowfullscreen"></iframe>

<script type="text/javascript">var tag = document.createElement('script'); tag.src = "//www.youtube.com/iframe_api"; var firstScriptTag = document.getElementsByTagName('script')[0]; firstScriptTag.parentNode.insertBefore(tag, firstScriptTag);</script>
Instructions: copy/paste code above and replace the code in pink with the YouTube video ID (found in URL).
Video posts
Use the video post type when the article is a video-only article (video + summary).
1. Select Format: Video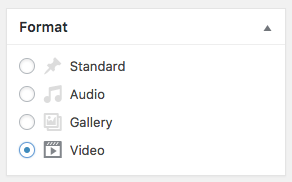 2. Copy and paste code from above and replace YouTube video ID.